At Ansell, we are excited to introduce you to our new innovative Denta-Gloves.
These gloves feature our ERGOFORM™ design technology to reduce muscle effort that can cause stress on joints, ligaments and tendons. This provides the most comfortable and ergonomic solution for your hands.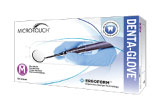 Our Micro-touch® Denta-Glove® Blue Nitrile gloves are durable enough for rugged donning while providing great tactile sensitivity and grip for fine, detailed procedures. The perfect go-to choice for users looking to avoid natural rubber latex Type I allergies while not compromising comfort.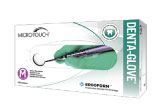 Micro-Touch® Denta-Glove® Green Neoprene delivers the ultimate fit, comfort, tactile sensitivity, stretchability and grip. Make the switch from your current latex or nitrile and get the best performance without the limitations of each material