NB NOVA Dental Diamond FG-Burs
are inexpensive, hygienic and cut reliably faster than deteriorating "multi-use" second-hand burs. Never ask again…"should I use this old bur one more time on my next patient?"
Norlin-Dental is proud to be the Sole Australian Agent for the NB NOVA range of SS White Single Use Diamonds. "SINGLE USE DIAMONDS may sound weird but it is a reality! Just like their expensive "multi-used" counterparts the NB NOVA diamond burs can be processed and reused many times, but why bother at this affordable price? Plus the many advantages:
SINGLE USE – No need for instrument tracking
LESS "SHARPS" CLEANING – Minimise risk for staff injuries
LESS OPERATOR STRAIN – Guard against expensive turbine wear and tear
SPEEDY UNIFORM CUTTING – Increase your productivity and keep patients happy
Collect your FREE FG-DIAMOND!
Click on the order-link and check out our NB NOVA bur range of shapes & sizes. Tick any bur order-box for the instrument of your choice. You must tick a box to be able to move to the next page where you fill in your name & address details.
Finally let us know that it is for a free bur-sample only and NOT a NB NOVA order! Simply notify us by filling in the "Message to Us" box. Please type: "Not a bur-order – just send a sample".
Finally click "Send Order" and we will dispatch your chosen FREE NB NOVA EVALUATION-BUR to any Australian dental service provider. Please note: THIS OFFER IS ONLY VALID UNTIL 30 June!
Of course you are welcome at any time to request another FREE NB NOVA EVALUATION-BUR when you order our products on-line! When you do order burs, please write your free bur choice in the "Message to Us" box. For example type: "Send one free sample of the 856/018 standard grit bur." We like you to test our FG-diamonds because we believe that a "test drive" will make NB NOVA your "First Choice" as well. We are dentists ourselves and we have used them in our surgery for years!
Get your NB NOVA "Single-Use" dental burs HERE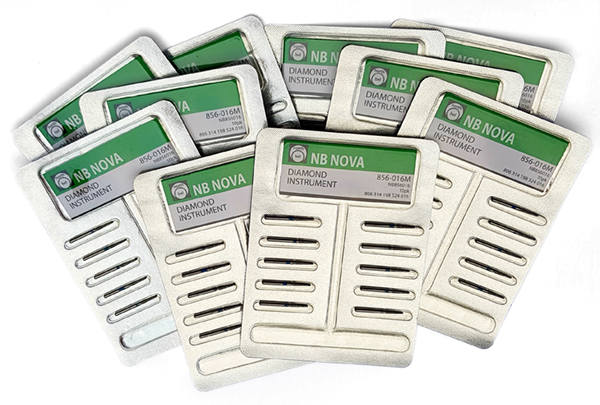 Our dental burs are made in compliance with ISO quality standards and listed with the Australian Therapeutic Goods Administration, TGA. Our NB NOVA FG Stainless Steel shafts are made to the highest precision in Switzerland and then each bur gets its "sharp end" covered with diamonds at the North Bel spa industries outside Milan, Italy. The NB NOVA burs are sent on to the parent company in the USA for final quality control and blister-packaging by SS WHITE in Lakewood New Jersey and finally dispatched to Norlin Dental, Australia.
NB Nova "Single-Use" diamonds are designed to let the dental team afford and enjoy the advantage of a fresh, sharp and predictable bur-instrument for every patient. Your dental patient will appreciate the difference as well! There are no FG-Diamond burs quite like the NB NOVA burs from Norlin Dental!
P.O. Box 702, Kew, Vic. 3101, Australia
Phone: 03-9853 0983 Fax: 03-9853 0484
International facsimile: +613 9853 0484
ABN 45 004 730 065