If you have attended any of my webinars or online coaching programs, you will be aware that it is crucial to select the right mode of communication for the task at hand.
The recipient engagement rate for telephone calls, SMS's, emails and direct mail are all different. And, the level of engagement you require differs for the type of task you are tackling, for example, confirmation calls, TLC, incomplete treatment follow-up, recalls etc.
Despite email having the lowest engagement – current figures are as low as a 13% open-rate – it is a very effective mode of communication when used well.
Email open rates increase substantially when the recipient is expecting a communication from you that will be useful to them.
A great deal of useful information can be included in an email considering the use of links to websites and attaching documents and brochures. However, it is a challenge to display your content in a way that engages readers. It all ends up appearing as plain text sectioned into a bunch of paragraphs.
NOT ANY MORE!
Have a look at this design…(excuse the quality of appearance once I converted email to image format)

Imagine the deeper level of engagement you would achieve with patients if you were to send them beautifully designed emails that effectively communicated your message, held attention all the way to the end and was consistent with your practice branding.
The platform that I have discovered that can do this and more is called BombBomb. And I think it's THE BOMB!

One of the main features of BombBomb is that you can very easily embed videos within the email. You can see what I mean in the video to the right.
But I see BombBomb's template emails as being the true value to dental practices.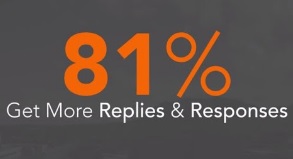 Imagine having pre-designed templates for the communications I have listed below. All your receptionist needs to do is drop in the person's email address and send it off. You can even track when your recipient opens the email and how often they return for another look.
New Patient Welcome
New Patient follow-up "How did you enjoy your visit with us?"
New callers who don't actually book in. Send them a "more about us" email and include a brochure on the service they queried after
Existing patient survey to improve practice performance
Reactivation of inactive patients
Happy Birthday sung by your team and sent to patients celebrating their special day
Video Newsletter rather than the less-engaging PDF
The possibilities go on and on.
If you are interested in receiving the above example email, simply reply to this email and I will forward it on immediately. I have the smart-phone app so can send it off anytime and from anywhere!
You can request a demo of this product by following the links after CLICKING HERE.
Let me know if you would like any guidance in setting up your BombBomb templates. I will arrange a 30-minute complimentary online session with you.
Julie Parker
DirJulie Parker Practice Success
m. 0407 657 729
e. julie@julieparkerpracticesuccess.com.auuli Parker was the first non-dentist to own a dental practice in Australia. After 10 successful years of managing her practice in Brighton, Victoria, Julie joined forces with Australasia's Passion Provocateur, Charles Kovess, to create Julie Parker Practice Success. They are on a mission to teach all dental teams the strategies and know-how of achieving great success.