Selling dentistry is stressful. In fact, from what we are hearing, it's also getting harder to maintain production, attract new patients and enjoy dentistry at the same time.
These concerns are global and with our 20+ years experience consulting with dentists around the world, we consistently hear that selling dentistry is one of the most significant issues for dentists.
What manifests from this stress is that many dentists are struggling to sell to and convince patients to accept the optimal treatment that they know they need.
This makes practicing a drain.
And when done incorrectly, has more damaging effects such as loss of trust, loss of patients and even a loss of confidence.
We developed Primespeak to solve these problems.
Primespeak is now presented each year in the US, Asia, UK and NZ and is described as the leading dental communications course globally.
"Primespeak has been a revelation in the difficult task of gaining patient trust and increasing treatment acceptance" – Dr Lex Franks
I'd like to share the 3 pillars of Primespeak that are proven to increase treatment acceptance rates and eliminate sales stress.
1. Make patients aware of their current oral health and the damaging effects of any existing conditions.
What this does: gives the patient a sense of ownership over their problem.
2. Ensure your patient understands their treatment options and knows that any treatment is entirely their decision.
What this does: gives the patient a sense of control over the situation.
3. Regardless of the treatment they choose, treat patients with complete respect for their decision.
What this does: gives the patient a sense of support they're unlikely to get from other dentists.
Do these steps correctly when communicating with patients and they will feel ownership over the problem, in control, supported and respected.
If you'd like to learn more, I invite you to benefit from either of the no cost options below:
If you have never done Primespeak
If you've never attended a Primespeak Seminar before, you might be wondering how good your current communication skills are, and whether they need to improve.
We've created the Optimal Communication Checklist to quickly evaluate your patient communication skills. This short 11-question checklist will quickly let you know how your communication skills compare with industry best practices.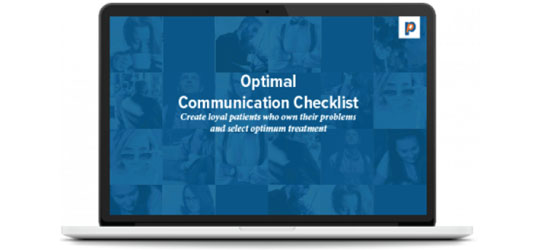 If you are a Primespeak alumni
If you're a Primespeak Seminar graduate and would like to refine and hone your skills, we have something for you.
I'd like to introduce you to the new Primespeak Alumni Learning Centre, where we feature no cost bite-sized training videos to help you put your Primespeak skills into practice.
Brett Churnin
General Manager — Client Relationships, Prime Practice
CPD hours available • 20+ years in business • Over 2,000 rave reviews