Even after fluoridation, tooth decay is still Australia's most prevalent health problem and the second most costly nutrition-related disease, with an economic impact comparable with that of heart disease and diabetes. Estimates suggest that 11 million Australians surfer new decay each year (Brennan & Spencer 2004).
Approximately $8.3 billion was spent on dental services in 2011-12, representing 6% of total health expenditure in Australia. (.Australian Institute of Health and Welfare 2012. Health expenditure Australia 2010-11. Health and welfare expenditure series no. 47. Cat no. HWE 56. Canberra: AIHW).
Worldwide, 60–90% of school children and nearly 100% of adults have dental cavities (WHO Oral health Fact sheet N°318).
All cavities develop after many episodes where acid demineralisation of teeth exceeds saliva and fluoride remineralisation, mostly where food is trapped and resident plaque bacteria change any carbohydrates like sugar to acid that demineralises tooth which brushing, saliva and fluoride can't reach to clean, neutralise acid and remineralise tooth like on surfaces that are easy to brush and that develop few cavities.
Over 80% of cavities occur deep inside pits and fissures of back teeth, (photos 1, 2 and 3) which Dentists prevent by placing costly sealants over chewing surfaces to block food getting inside these developmental faults (Photos 4, 5) seen in the Supertooth project with X-ray tomography at Latrobe University.
Supertooth also forced sealants inside these faults in extracted teeth under chewing pressure, then dissolved the teeth in acid (Photo 6) giving models where food is trapped similar to the 3D models from X-ray tomography (Photo 5). This led to development of glass models of a fissure that replicate how chewing forces the first bite of a meal or snack inside pits and fissures and a sealant toothpaste project with Monash to block food and displace trapped food.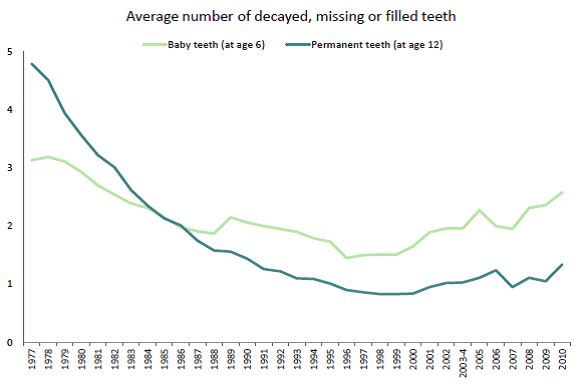 Fig 1: Decayed missing and filled teeth from the new National Oral Health Plan 2015-2024 shows caries incidence is on the increase since 1999 but fails to show why, probably due to the popularity of bottled water and sugar rich food and drink. Also it fails to show that most cavities occur where food is trapped and brushing cannot reach, indicating the need for better oral health promotion and a database for gathering more relevant population oral health data.
RMIT has developed an opt in data base for the regular gathering of population-level oral health data as recommended by the National Oral Health Plan 2015-2024 so families and individuals can better monitor their oral health and surface caries susceptibility compared with any fluoride or non-fluoride postcode, state or national averages www.supertoothndk.org.au.
Parents can also register to send baby molar teeth that fall out from children to the Tooth Fairy to examine at the Australian Synchrotron to compare developmental faults between fluoride and non-fluoride areas and why some teeth don't have these faults or cavities that will greatly help end decay.
We are currently asking the ADA and other interested parties with Council help to motivate residents to register on www.supertoothndk.org.au Also to look at how best to involve schools and dentists particularly in Ballarat, Bendigo, Lakes Entrance and Geelong where fluoridation has not had full effect to compare with Knox and Sunshine where fluoridation has been well established.
Of course, the project is Australia wide but we need a good response in those areas and for Aboriginal and rural communities that don't have ready availability of dental treatment for this most preventable disease which needs more commitment from all participants, particularly government.
Regards,
Maurice White BDSc. Melb.
Please visit www.supertoothndk.org.au for more information on the Tooth Fairy Project. Contact Maurice on 0403 040 611 or supertooth@yndk.info.