By Dr. Jennifer Bell
One of the biggest challenges with completing clear aligner tooth movement predictably is accomplishing enough interproximal reduction (IPR) on schedule to allow for ideal tooth movement.  Many clear aligner cases call for IPR to be accomplished to best level and align teeth.  I tend to prefer buccal expansion wherever possible to not only allow for better alignment of teeth but to also allow for improved tongue positioning, reduced buccal corridors, and more ideal occlusal forces on posterior teeth.  While buccal expansion has many advantages for patients and continues to be my preference, many cases still require some IPR for best completion.  Since IPR is an unavoidable part of orthodontic therapy, it is important to find a more predictable protocol to achieve these results.
When IPR is done well and accurately, tooth movement is more likely to move on schedule and the case is likely to complete on time with fewer numbers of refinements (additional series of trays) required.  Profitable clear aligner tooth movement begins with implementing systems that work for reducing the number of visits required or additional aligners needed to complete the case.  For my clear aligner patients, I have found a very predictable process using both Garrison IPR hand files and Strauss Diamond rotary IPR discs.
Our patient featured in this article presented with a chief concern of improving the esthetics of her smile and reducing her overbite and overjet for more ideal anterior tooth placement.  She has a posterior implant which constricts the amount of buccal expansion we can accomplish so in this particular case, we elected to add some IPR to accomplish her tooth movements.  As shown in Fig 1, she had some existing space (green boxes) on the left pre-operative image and required IPR (gray diamonds) in right ClinCheck image to improve midline and position of anterior teeth.  Upon delivery of clear aligners to the patient, we will try to complete all necessary IPR at the initial appointment.  Of course, there are times when it is more ideal to wait for some movement first before attempting IPR to achieve better access to the interproximal walls.  In addition, accomplishing most of the required IPR at the initial visit will increase the accuracy of the reduction.  Once teeth are activated for movement, their mobility increases, and it becomes more difficult to determine if the correct amount of reduction has been completed.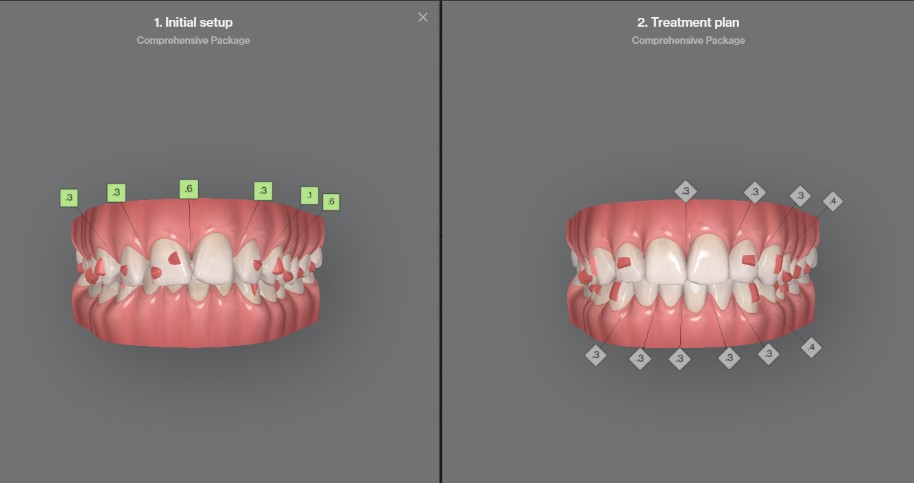 Our first step in our IPR protocol is to break all the contacts with the FitStrip Gray .05mm (Fig 2) to break open contacts.  Reduction between teeth is then accomplished in a step wise fashion starting with the smallest FitStrip and moving towards thicker strips in order to slowly increase the spacing between teeth.  In this case, we used the double sided FitStrip Extra Fine Grit Yellow .11mm (Fig 3) and Red .15mm (Fig 4) in a fine grit.  Clinicians can use a TAC topical anesthetic if needed to get the accurate reduction.  Hemorrhage is expected with gingival tissue, but patients rarely complain of any discomfort with the reduction when slow, methodical movements are utilized in a controlled fashion.  It is also important to note the IPR strip should be tight in the holder which can be adjusted by the colored portion of the handle.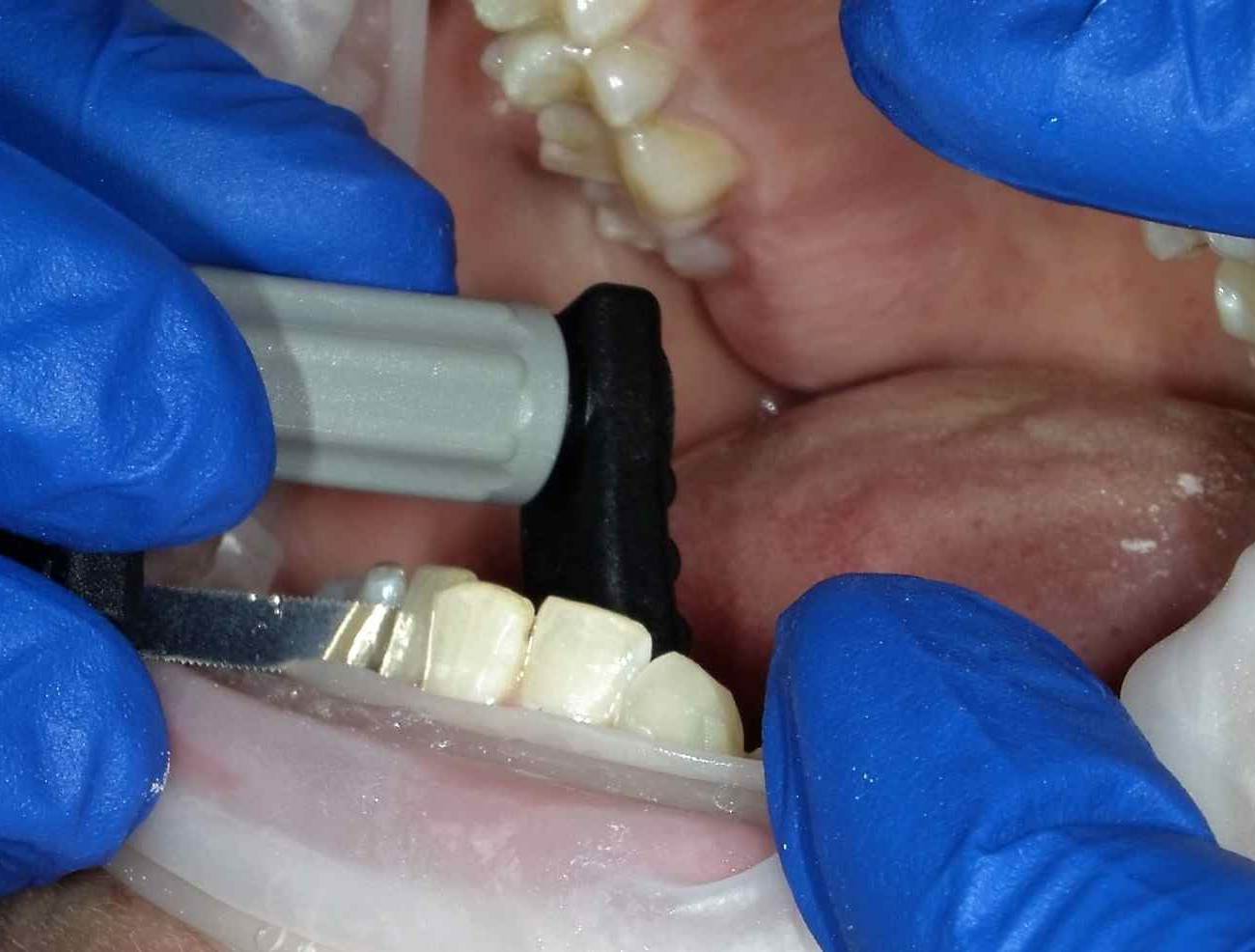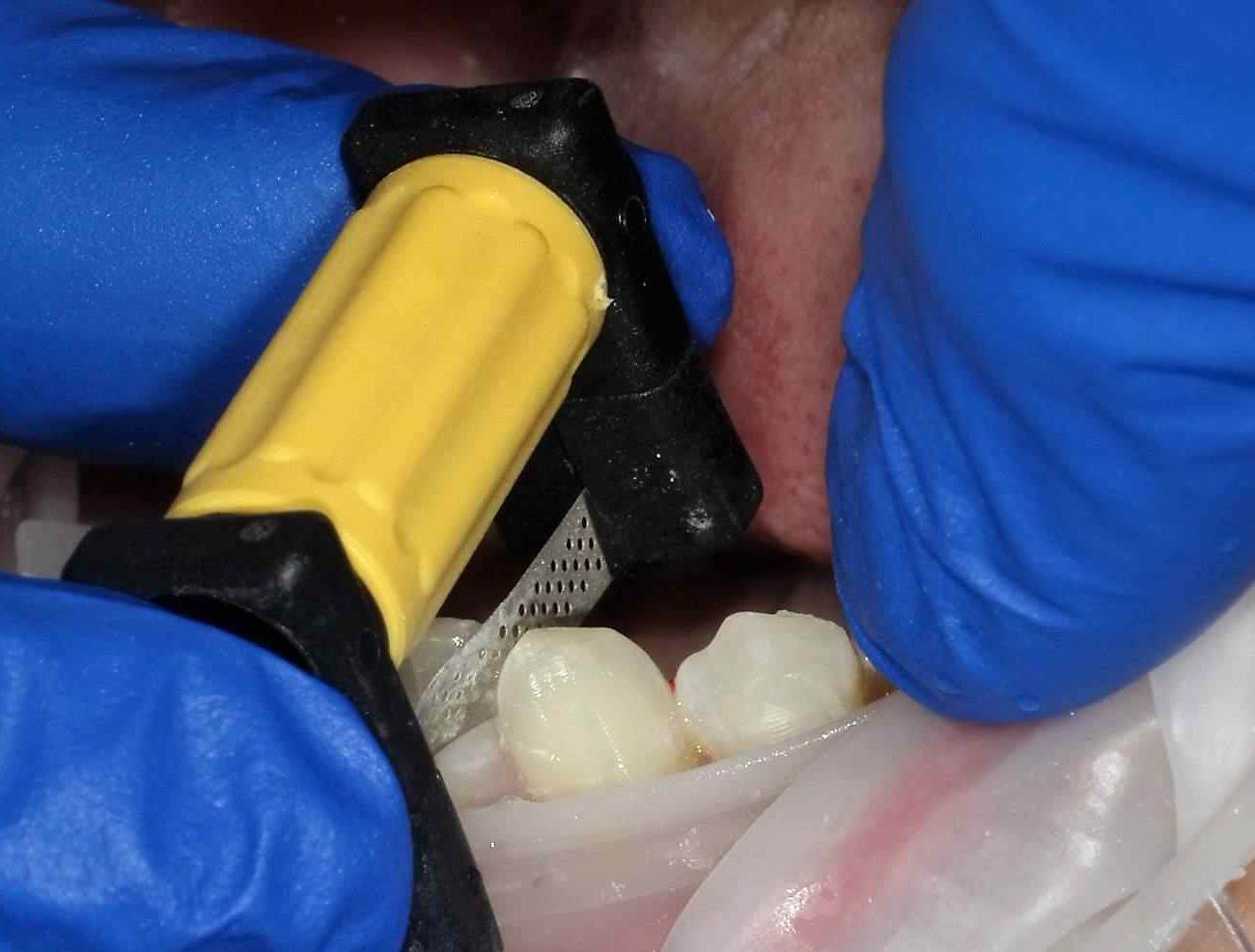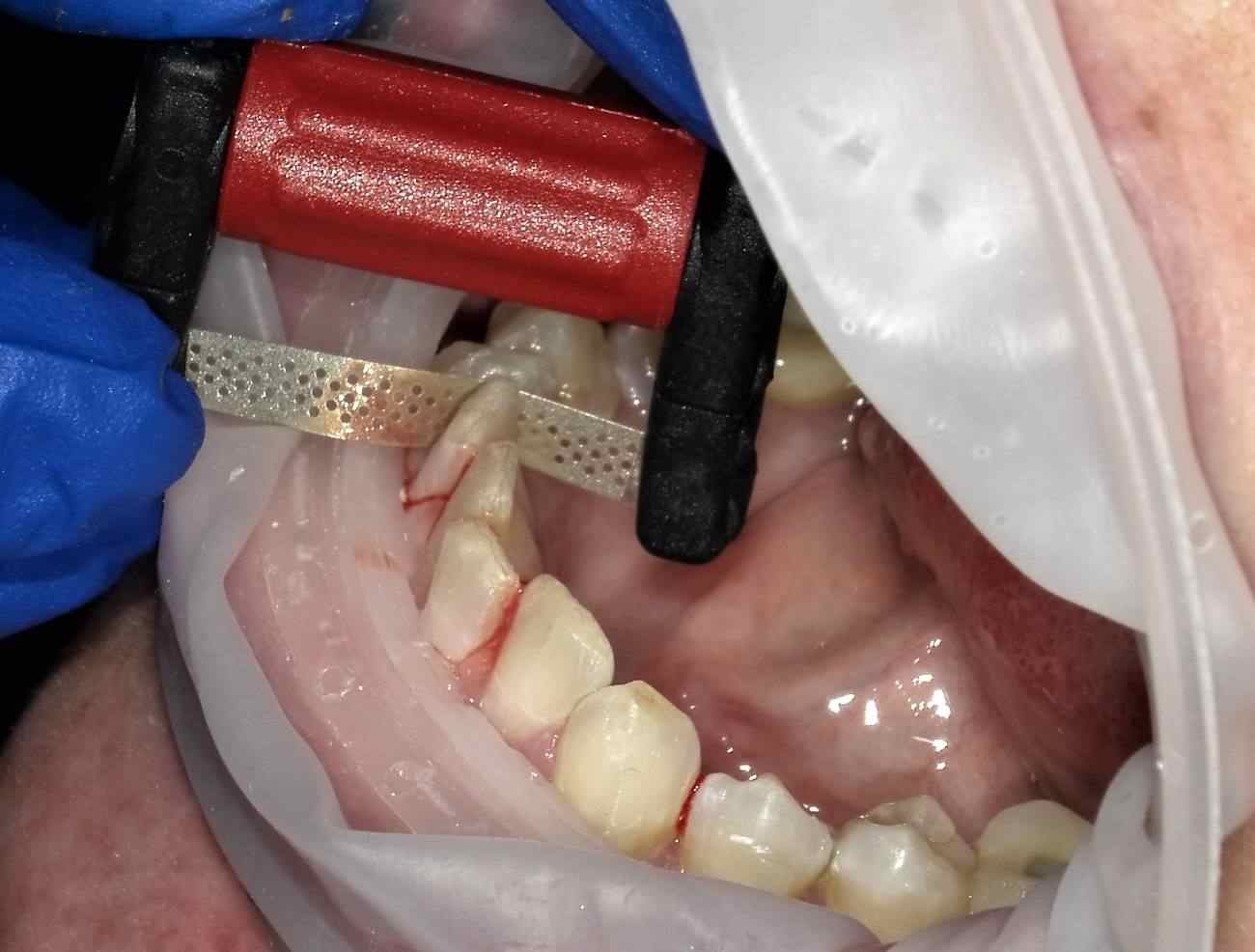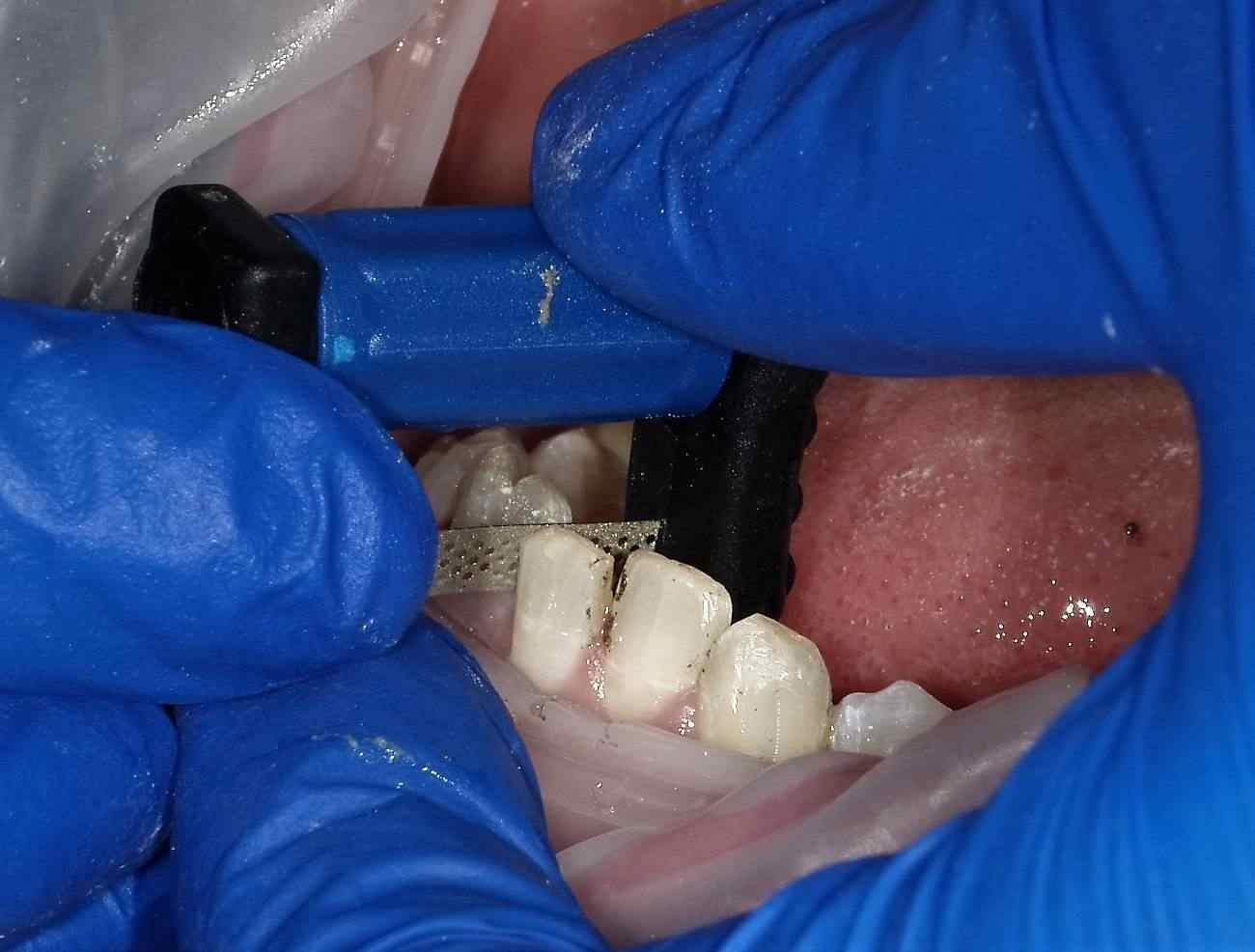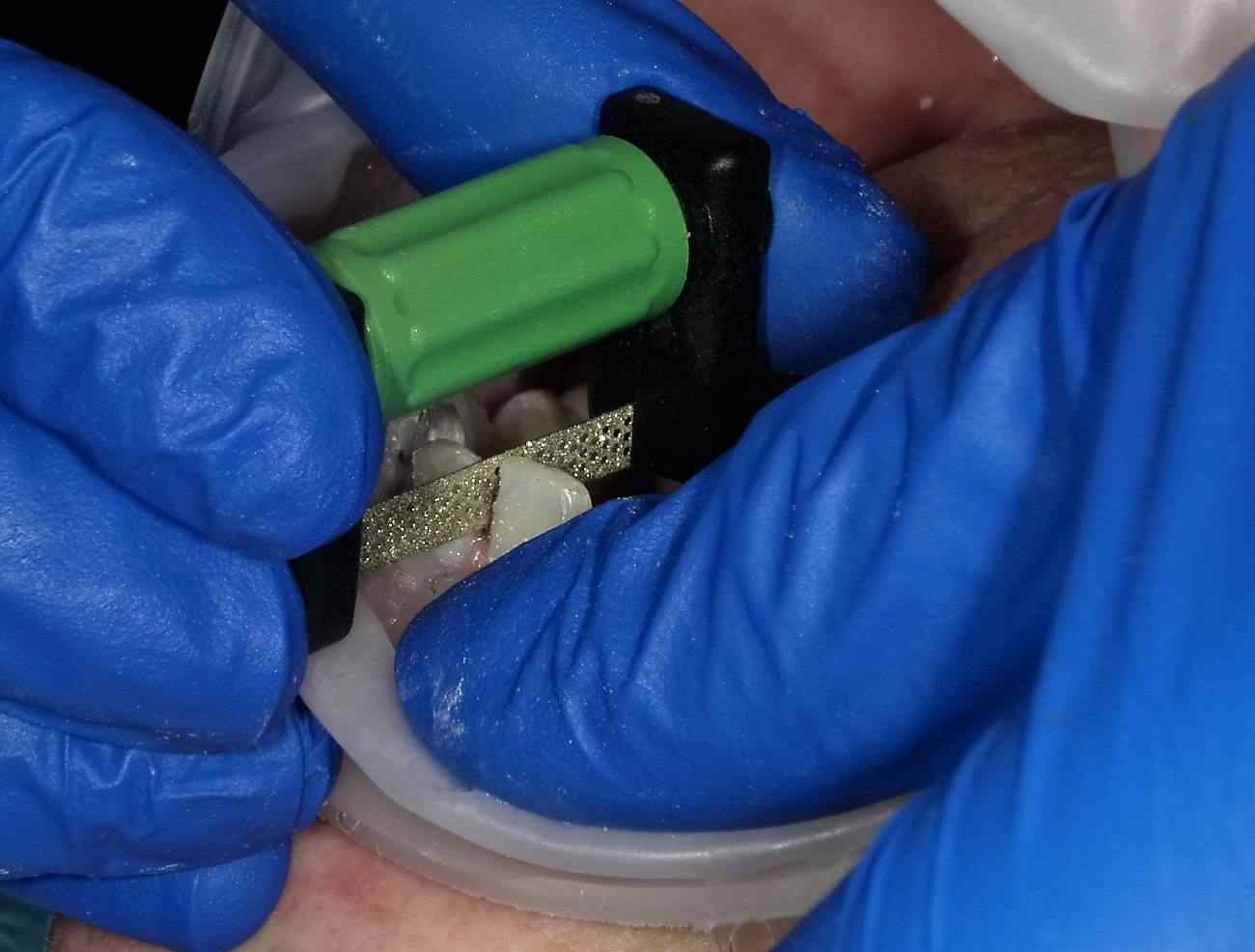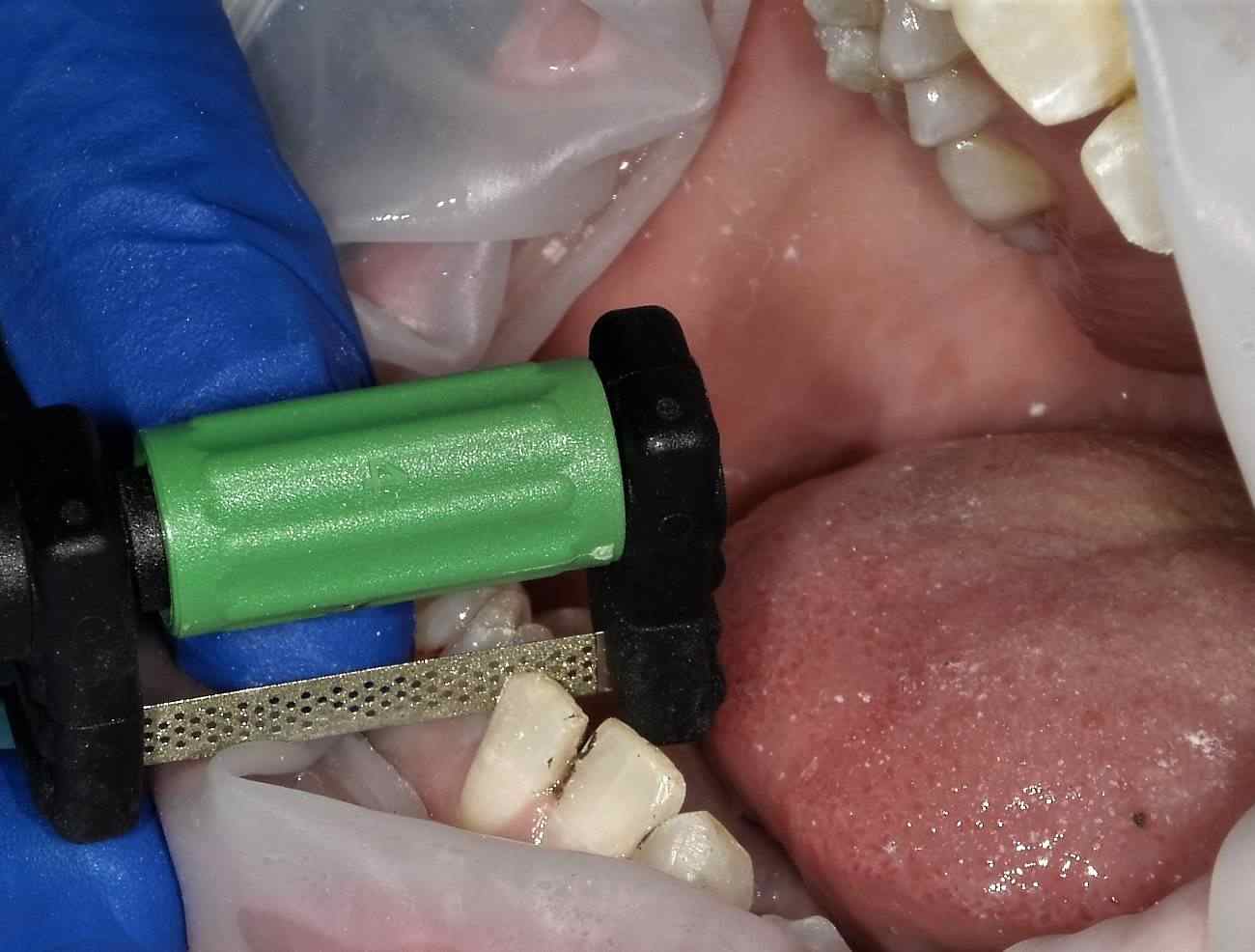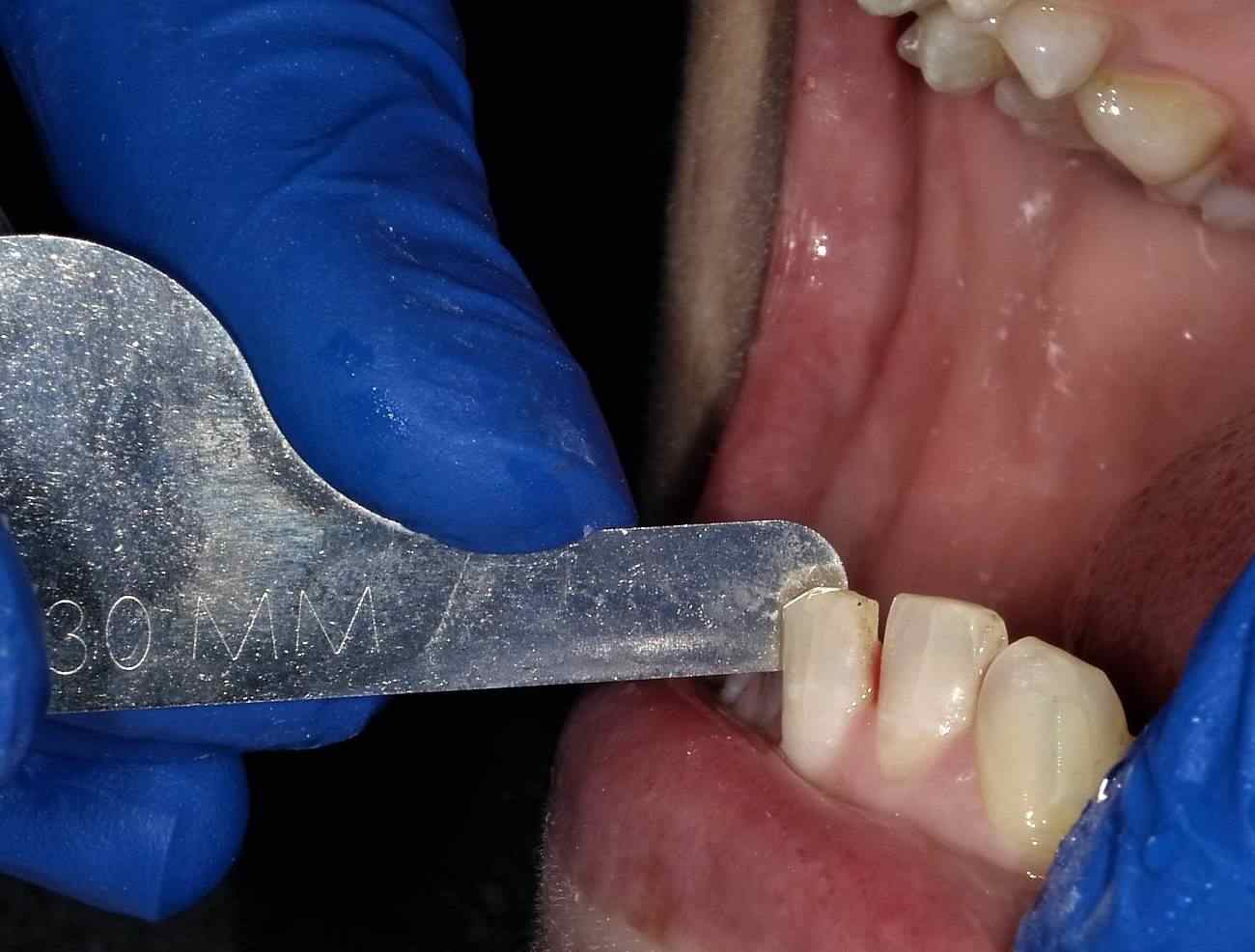 For spaces larger than .15mm, the clinician has a choice to decide if they wish to complete the required IPR with hand instruments like the FitStrip or move to rotary instruments or high-speed burs.  Hand instrumentation with the FitStrips can also be accomplished if the clinician does not want to utilize rotary instrumentation.  FitStrips are available in either a single sided or double sided option and can range in size from .08mm to .5mm.  Clinicians should also note the grit transitions from super fine to medium as the thickness of the strip also increases (Figs 5 and 6).  Clinicians can avoid potential hand fatigue with hand instrumentation by utilizing the handle provided in the starter kit. (Fig 7)  I find that I will alternate using the handle attached to the FitStrips depending on the angulation of the required spacing and my ability to negotiate the reduction safely for the patient's surrounding tissues and lips.
After reduction is completed per the provided instructions from the clear aligner company, I often go back to the spaces once more with the appropriately sized FitStrip double sided hand instrument to make finishing adjustments and smooth any sharp angles that have resulted from the reduction.  A clinician can also use the FitStrip fine grit in .15mm to smooth the interproximal sides of the teeth to allow for more ideal approximation during movement.  Finally, verify the reduction is completed adequately by using appropriately sized gauge which should slide between the teeth passively indicating the correct reduction has been made.  (Fig 8).  This process is repeated as needed throughout the case in specified intervals depending on the orthodontic plan.
Garrison's FitStrip system has several advantages over other IPR systems on the market today.   Their strips are autoclavable and designed to be used for 20-30 spaces (or approximately 4-6 cases). Our office will take the IPR strips after autoclaving and store them with that patient's case file.  This allows us to continue to use their designated strips throughout their treatment decreasing our overhead on IPR consumables. The FitStrips can also be used to break contacts when cementing veneers and to finish proximal boxes with Class II composites.  The ergonomic design of the handle to aid in handling the FitStrip is yet another advantage this system has over many other IPR strips I have tried in my practice.
Protocol Synopsis:
FitStrip Gray .05mm to break contact
FitStrip Yellow .11mm and Red .15mm double sided
FitStrip Blue/Green/Black to finish reduction with hand instruments OR
Rotary IPR system to open contacts by .2mm – .5mm
FitStrip of appropriate size for reduction to finish the spacing
FitStrip IPR gauge to ensure reduction is complete
FitStrip Yellow fine grit to smooth the spaces

Dr. Jennifer Bell
Holly Springs, NC
A native North Carolinian, Dr. Jennifer Bell earned her undergraduate and doctoral degrees at the University of North Carolina at Chapel Hill. She currently owns two practices in the Raleigh, NC area where she practices full time. Dr. Bell is a graduate of the Kois Continuum and a fellow in both the Academy of General Dentistry and International College of Dentists. Dr. Bell is active in the Academy of General Dentistry where she serves on the Dental Practice Council, Government Evaluation and Review Committee, and as a National Spokesperson. When not practicing dentistry, Dr. Bell is busy raising three kids with her husband Brian.