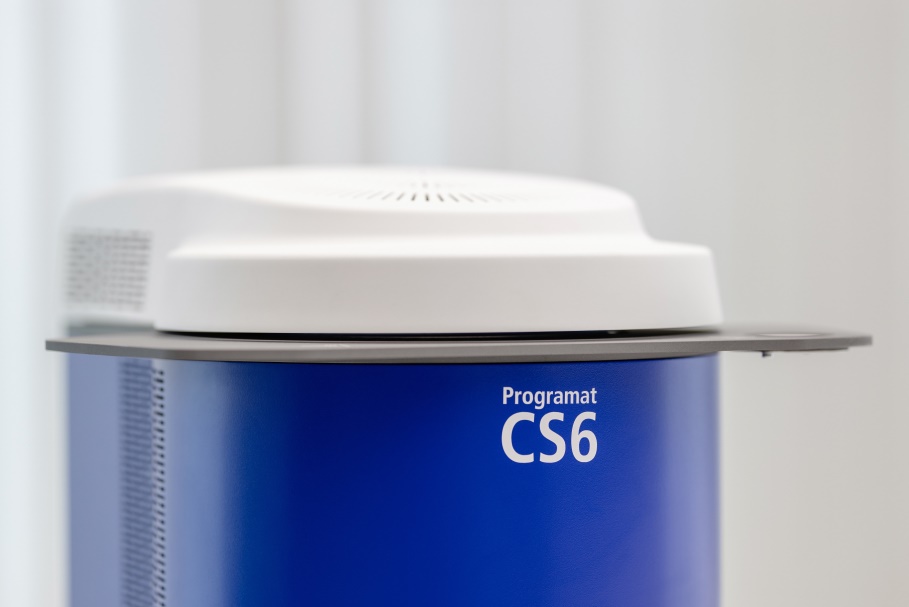 The use of highly esthetic zirconia is gaining in popularity in chairside dentistry. Monolithic one-appointment restorations have become a benchmark in dental care as a result of these dependable high-strength materials. IPS e.max® ZirCAD has become a firm favourite within our materials portfolio due its outstanding clinical properties. Together with the proven lithium disilicate IPS e.max CAD, it offers dental practitioners a wide spectrum of solutions for their tooth-supported and implant-supported restorations.
In the past, the firing of zirconia represented a "bottleneck" in the overall restoration fabrication process. The "speed" programs of Programat CS2 and Programat CS3 furnaces are well-known for having reduced the firing time of IPS e.max CAD. However, zirconia materials are more demanding in this respect because they have to undergo a sintering process, which requires more time.
The Programat CS6 from Ivoclar offers users a versatile machine, which raises the bar in terms of quality and time in both the firing of lithium disilicate and the sintering of zirconia materials.
Accurate programs for firing IPS e.max CAD and sintering IPS e.max ZirCAD are pre-installed. The furnace significantly reduces the process time in both cases, which considerably speeds up the overall treatment time.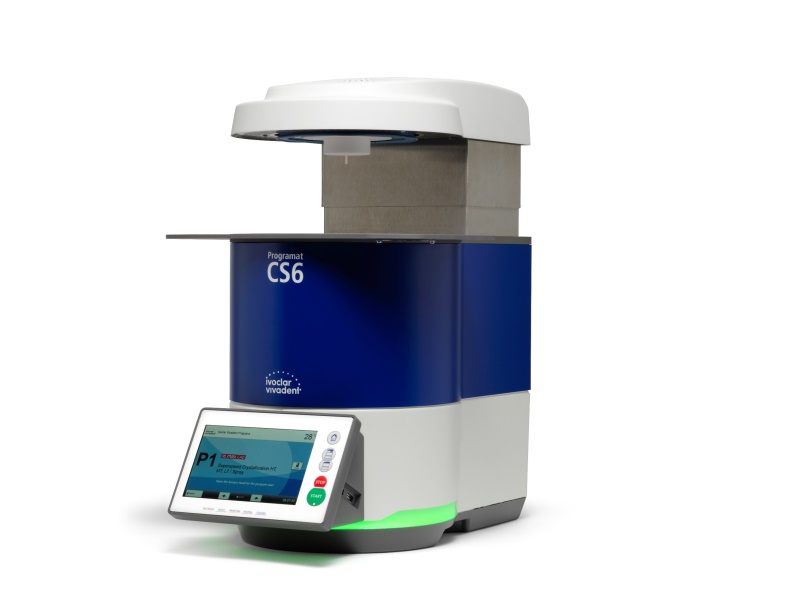 Furthermore, the Programat CS6 is the only machine that allows us to sinter zirconia restorations and crystallize and finalize lithium disilicate restorations with the assistance of vacuum. This greatly enhances the translucency and surface quality of the restorations.
The following list contains the most important features and benefits of the new Programat CS6 furnace:
First sintering furnace with vacuum and oxygenation processes
Crystallization of lithium disilicate in "speed" and "super-speed" cycles
Sintering of zirconia
Up to four single tooth restorations or one three-unit bridge can be fabricated at a time
Firing chamber of 55-mm diameter accommodates large restorations
Stain and glaze firing cycles
Unlimited programming for a wide variety of materials
New crystallization tray
Open system for all CAD/CAM systems
Pre-installed programs for all Ivoclar blocks
Built-in digital shade analysis (DSA)
Object plate and tweezer tips made of zirconia for optimum handling
Pre-drying cycle for wet milling
Only furnace in which the restoration descends into the firing chamber for improved control of drying and cooling
High-tech design that blends in seamlessly with state-of-the-art practice surroundings
The furnace has firmly established itself in our clinical practice because it allows us to efficiently process both zirconia and lithium disilicate. Our main aim is to offer our patients* permanent single-tooth restorations in one appointment or at least on the same day (chairside or semi-chairside). As a result, we are highly dependent on using machines that produce fast and reliable results and fulfil utmost esthetic standards.
In chairside fabrication procedures, the Programat CS6 is capable of crystallizing and glazing IPS e.max CAD restorations within 11 minutes and 10 seconds. In other words, if milling takes an estimated 8 minutes, it takes a total time of approx. 20 minutes to produce a restoration. The furnace time in the Programat CS6 increases to only 24 minutes and 40 seconds when firing four single-tooth restorations or a three-unit bridge.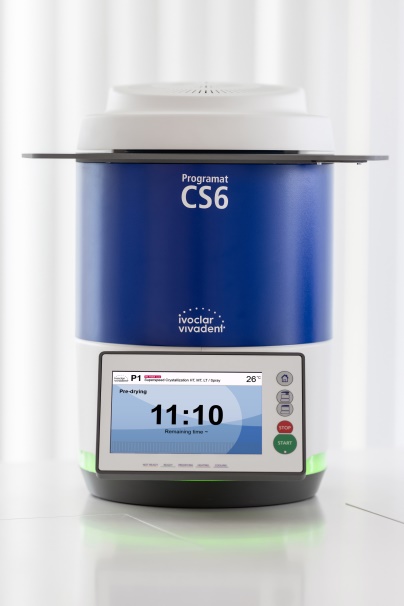 The IPS e.max ZirCAD LT zirconia material can be sintered in only 22 minutes (up to three restorations or one three-unit bridge at a time) and the IPS e.max ZirCAD MT Multi material in a total of 55 minutes and 20 seconds.
The furnace features two somewhat longer sintering programs, which allow you to increase the level of translucency in only slightly extended sintering times.
The furnace user, therefore, has the option of sintering their restoration at a higher speed and compromising a little on its translucency, or sintering at a nominally lower speed and thereby enhancing the esthetic appearance (translucency) of the restoration. This is an important factor that needs to be considered when selecting the right treatment for your patients.
The furnace allows additional programs to be freely added for all third-party materials available on the market.
The possibility of using vacuum during the firing cycle represents an important furnace feature for us, since in some cases, we like to customize our restorations with add-on materials in the cervical and vestibular areas in our professional on-site dental laboratory.
The Programat CS6 offers us the high-speed capabilities we require in the fabrication of in-office restorations, but also fulfils our needs in terms of producing layered ceramic restorations.
Case studies
Two case studies illustrate how the Programat CS6 is capable of firing zirconia restorations in a very short time and achieving excellent and reproducible results.
Single-tooth crown:
Material: IPS e.max ZirCAD LT
Milling time (dry): approx. 17 minutes
Sintering time: 22 minutes
Self-adhesive placement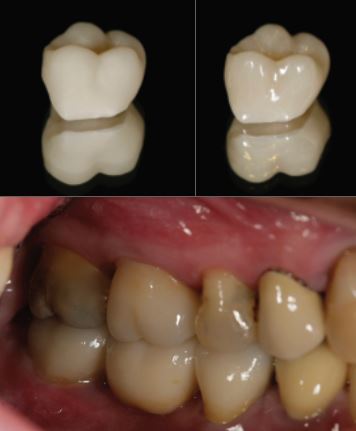 Three-unit bridge:
Material: IPS e.max ZirCAD MT Multi
Milling time (dry): approx. 31 minutes
Sintering time: 69 minutes
Conventional cementation